Sup addicts....so what´s the purpose of this blog? Well....if you can identify yourself with those cats investing millions of $ in your record crate and being chronically broke all the time you´re at the right place....
Dig It Out...! focuses on original hip hop record pressings and tries to give you the according details to differ between original pressings, reissues and bootlegs! If you don´t care whether your "Showbiz & A.G. - Runaway Slave" Lp is the real deal or not...you´re maybe at the wrong place.

On the other hand I´m posting all these records to show up the partially uncared-for cover-artwork.

Because it demands a lot of effort to scan and edit all the labels and sleeves, you´ll be sometimes encountered with the plain text pattern, but all missing pics will follow in a little while and I´ll try to update steadily... (maybe not the real rare 100+$ gems, ´cause I´m a student and don´t have that loot at free disposal, but there are still bargains to make on the bay) ....if you ransacked through the artists and noticed that pics are missing and you got that record in your crate...please do not hesitate to contact me and mail me some pictures.

Most likely you noticed that there are no full track downloads or cd-rips whateva on this site justified by several reasons and there will be no such thing in the future.
I started to upload track snippets in October last year but as you can guess it takes much time. I hope there´ll be snippets for all labelscans someday. If you need some track urgent for a post already existing...email me and I´ll do my best.

Most of the records I´ve listed on this blog are directly out of my crate but from time to time my man Top-Notch hits me up with some rare gems...thx for that

Please feel free to use the comment section to exchange knowledge....

So check by regularly and keep the vinyl alive

pz
Booxbowm

last but not least...some crate pics!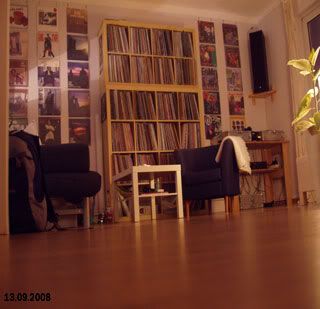 where it all began ;-)



let´s go pro...!